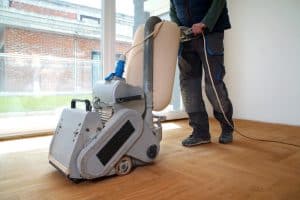 The Importance of Sanding in Hardwood Floor Refinishing
Achieving Stunning Results with Harrington Hardwood Floors
The Science Behind Sanding
Sanding might seem like a straightforward process, but it's a delicate balance of art and science. The key is to remove just enough of the old finish without damaging the wood beneath. This requires the use of specialized equipment and an in-depth understanding of wood grain and species.
Our team at Harrington Hardwood Floors uses state-of-the-art sanding machines that are designed to be gentle on your floors while effectively removing the old finish. We pay meticulous attention to the grain direction and thickness of your floorboards, ensuring a uniform and smooth surface.
The goal of sanding is to create a pristine canvas for the subsequent refinishing steps, such as staining and sealing, to work their magic. This meticulous preparation is what sets the stage for a flawless final result.
The Benefits of Proper Sanding
Proper sanding offers numerous benefits beyond just aesthetics. Here are some of the key advantages:
Enhanced Durability: Sanding removes any weakened or damaged wood fibers, making your floors more resilient and less prone to future wear and tear.
Improved Health: Sanding helps eliminate dust, allergens, and contaminants trapped in the old finish, creating a healthier indoor environment.
Better Stain Absorption: A well-sanded surface allows stains and finishes to penetrate evenly, resulting in a more vibrant and long-lasting color.
Smoother Finish: Sanding creates a smooth surface free from bumps and imperfections, ensuring a comfortable walking experience.
Increased Home Value: Refinished hardwood floors with a proper sanding job can significantly boost the value of your home.
At Harrington Hardwood Floors, we prioritize these benefits to ensure that your hardwood floor refinishing project exceeds your expectations.
Our Sanding Process at Harrington Hardwood Floors
When you choose Harrington Hardwood Floors for your hardwood floor refinishing needs, you're choosing a team that takes sanding seriously. Here's a glimpse into our sanding process:
Initial Assessment: Our experts begin by assessing the condition of your floors. We identify areas that require special attention and determine the optimal sanding approach.
Sanding Equipment: We use industry-leading sanding equipment that combines power and precision to deliver outstanding results.
Dust Containment: Our dust containment systems ensure that your home remains clean during the sanding process. We prioritize your comfort and safety.
Multiple Grit Levels: We employ multiple sanding grit levels to gradually remove old finishes, ensuring the wood remains intact and undamaged.
Final Inspection: Before moving on to the next refinishing steps, we conduct a final inspection to ensure the surface is perfectly smooth and ready for staining and sealing.
Our commitment to excellence in sanding is what sets us apart as the premier choice for hardwood floor refinishing.
The Difference Sanding Makes
In the world of hardwood floor refinishing, sanding is not just a step; it's the foundation upon which the entire process rests. At Harrington Hardwood Floors, we understand that achieving a flawless, long-lasting finish begins with proper sanding.
With our expertise, state-of-the-art equipment, and dedication to excellence, we ensure that your hardwood floors will look stunning and withstand the test of time. Experience the transformation that sanding can bring to your home's interior and trust Harrington Hardwood Floors to deliver outstanding results.
Don't compromise on the quality of your hardwood floor refinishing project. Contact us today to schedule a consultation and discover how we can breathe new life into your floors through the artistry of sanding.
Contact Us for Your Hardwood Floor Refinishing Needs
If you're ready to transform your hardwood floors through refinishing, Harrington Hardwood Floors is here to assist you. Our expert team specializes in every aspect of hardwood floor refinishing, with a particular emphasis on the critical step of sanding.
Contact us today to schedule a consultation and experience the unmatched quality and craftsmanship that Harrington Hardwood Floors brings to every project. Trust us to make your hardwood floors shine again.